Chapter 7 : Eye ... Exercises
Often, it is impossible or inadvisable to begin exercising a weak sphincter (like the bladder) directly. ...(since) all the sphincters work simultaneously, it is possible to strengthen a weak sphincter by activating a stronger one. ... most people are able to activate the sphincter muscles that control the eyelids...
STRONG CONTRACTION OF THE EYELIDS is a reflexive reaction to pain. ...if you stub your toe or catch your finger in a door, you will actually feel your eyelids contract strongly,
and with them your entire body, if all the SM are working normally.
p 90 ...In contrast with sudden pain, a sudden shock makes the mouth gape and the eyes open wide. Contracting the eyelids... makes the SM contract and go back to normal functioning..
..additional benefits... It can help a rigid spine to move and recover its flexibility. It also leaves behind a pleasant feeling of release. If you have ever had the feeling that your body is a single, whole entity, this exercise should confirm that feeling.
..lie on your back with your knees drawn up to your chest and your fingers interlaced, clasping your knees. Squeeze your eyes shut .. as though reacting to some extremely bright light. The area all around your eyes should scrunch up, and the feeling around your mouth and nose may be affected as well. Hold this position for as long as you can, then relax. When you feel you can, contract your eyelids again. Repeat... until the muscles "tell" you to stop. Do not open your eyes during the exercise, even when you relax your eyelids.
After you've repeated the exercise several times,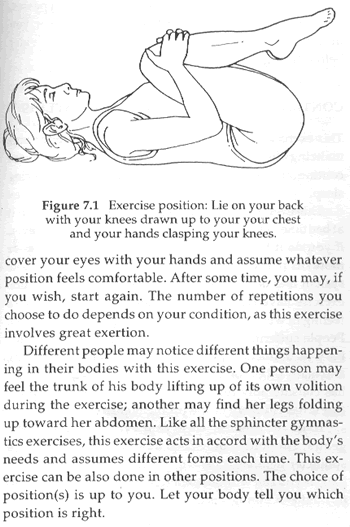 Note: If you contract your eyelids properly, it should not hurt. If it does, stop... and cover your eyes with your palms. After the pain passes, ...resume if you wish.
[2010_11_28:See my song: Hands on Eyes,
dedicated to Paula,
and my study of "Vision Acuity" on the same page]
CONTRACTING and RELAXING THE EYELIDS
This exercise is a very good point of departure for normalizing the entire body. The motion is delicate and continuous, like the eyelid movement that occurs during sleep.
... soothing effect ... at bedtime... easier to fall asleep. However, if you do it for ...30 minutes or more as part of a workout, it will arouse your whole system into action. .. increased energy and a feeling of well-being, like that after a good night's sleep. ..asthma, sinusitis, insomnia, urinary incontinence, prolapse, hyperactivity, backaches ... relief or even total healing...
... Close your eyelids and do a very gently, rhythmic squeezing motion. As with all the SM exercises, you should do it for as long as you can without experiencing fatigue or discomfort. 15 minutes is a good starting point
[Rachel: even 15 seconds are good!]
VIGOROUS CLOSING and
OPENING OF THE EYES
affects the spine, ... helps to restore the body's overall equilibrium... benefits digestion, . .. squeeze your eyes shut strongly, as you do when reacting to pain. Hold this position for several seconds, then open your eyes very wide.. repeat... often difficult for old people, ...
[Titles of some more eye and ear exercises:]
EYES FALLING INTO HEAD
EYELIDS GENTLY PRESSING EYES
LOOKING FROM EAR TO EAR
HAND TO EAR